1:25 p.m., November 11, 2013 – Some say a picture is worth a thousand words.
However, for a class at the University of Delaware and in the City of Newark, an image can have a lifetime of historical preservation.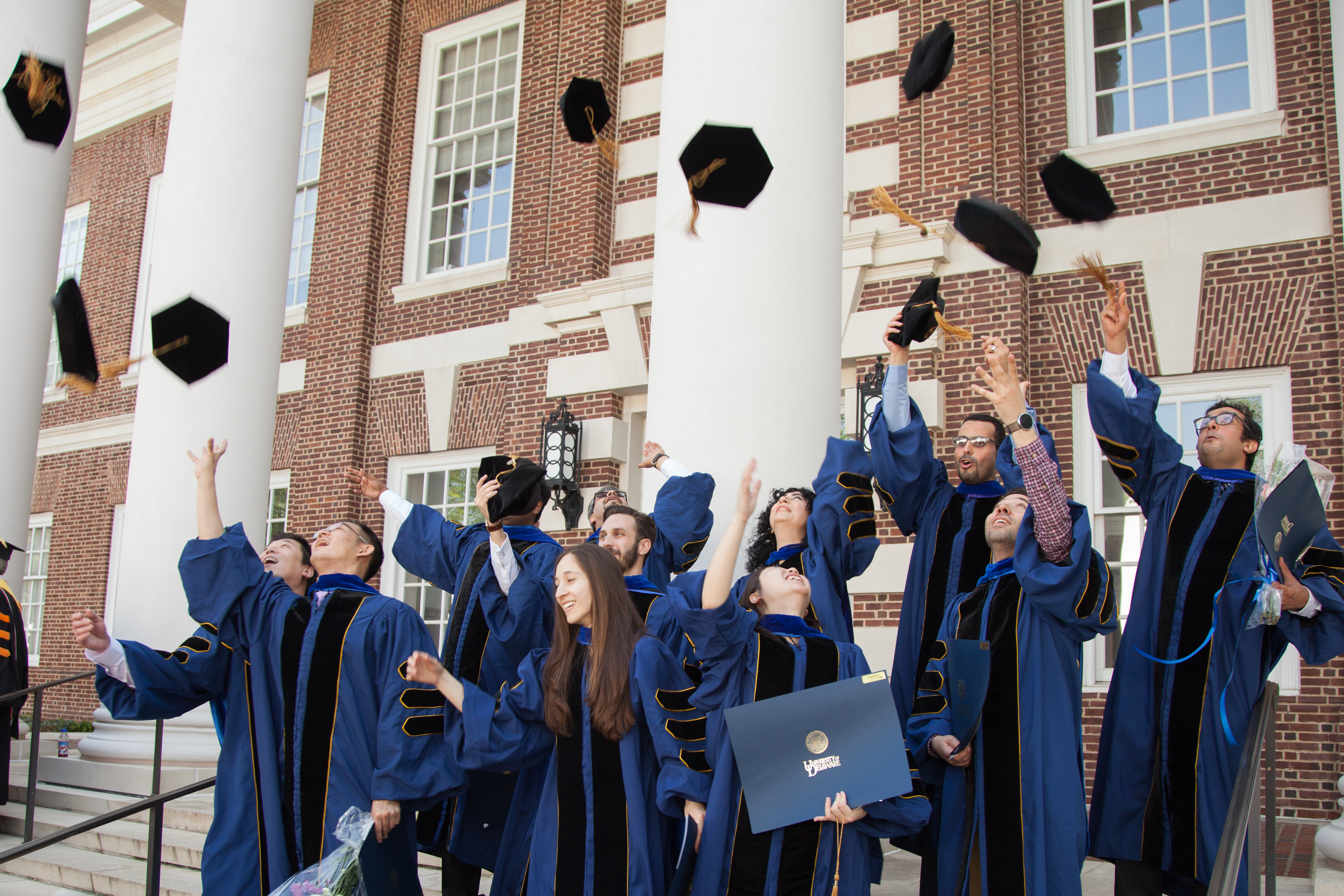 From graduates, faculty
When it was time for the procession to open the University of Delaware's opening ceremonies, alumni and faculty members shared their feelings about what the event means to them.
Promotion hood
It was a day of triumph, exultation, and collective relief as more than 160 students from 21 nations attended the University of Delaware graduate assembly held on The Green Friday morning.
In David Ames' architectural photography course, a team of graduate and undergraduate students photograph historic buildings on Main Street. They have teamed up with city planners to document what is available for surveying, design, promotion and conservation.
On a stormy day, Junior Jessica Lang and Senior Marek Jaworski strolled down Main Street and photographed the buildings on their list. You should focus on capturing one major detail of each building – starting with the post office and ending with the former Marine Corps Recruiting Building – and taking a perspective shot.
"We're looking for things like a balcony, drafts on a railing to describe the building types and where they're located to preserve the building's history," Lang said.
The class was split into five teams of two, said Ames, professor and director of the UD Center for Historic Architecture and Design, which is part of the School of Public Policy and Administration. Each team was armed with a list of buildings to be documented, and when Old Main Street was finished the class moved on to East Main Street and Old Elkton Road.
"You're having fun," said Ames. "It's part of the learning process. It motivates them. They know it's more than just an exercise. "
Years ago, Ames worked with the city to create a map of Newark's historic buildings. But the city hasn't kept it up to date, said Downtown Newark Partnership urban planner and administrator Ricky Nietubicz. Ames said the technology used at the time was already out of date.
That year, the Newark planners turned to Ames to see if he would help again. Ames was ready and eager to give his students a real hands-on experience and decided to use Flickr as their database and warehouse for the photos.
Using the online photo sharing website, the city has access to the photos at every step of the process, even before Ames' students are finished. Photos can be manipulated, marked, classified and quickly measured. They can also be shared.
One final afternoon, Ames and class members sat down to review the first round of photos. He asked if they were having fun.
The students said: "Cars and people make it difficult."
"Obstacles are difficult to photograph."
"The season is hard; There is no exposure. "
The class is primarily a material culture photography class. The students first got to know the historical architecture. Then they learned how to use their digital cameras, how to get the lighting they want, and how to frame their shots.
Then they learned what elements of a building are required to document historical buildings, usually a detail that defines the building, or a view or perspective photograph.
Ames went through each team's photos with the class and listened to their experiences and how they selected the photos that ended up on the Flickr page. He gave them tips on framing, choosing lenses, and using perspective.
When the students talked about their photos, Nietubicz weighed in. He explained that many people think most of Main Street is brick, but their photos showed otherwise. He talked about the "new" Newark architecture, the fake chimneys as architectural details and the cobblestone work in some of the new buildings.
The work Ames' students are doing is priceless, said Nietubicz. Your efforts are aimed at preservation, but also at understanding what is already there, what elements unite the various buildings on the street, and how developing updated guidelines can affect future historic buildings.
"We can figure out where we're going based on where we've been," he said.
The project is part of a larger program in downtown Delaware by the Delaware Economic Development Office that is modeled on a similar national program. Newark has one of eight major highways in the state.
There are no "accidents" in designing a unified site, Ames said. It is often argued that redeveloping old rooms will ruin the historical character. However, the upper floors are usually left untouched. Ames believes the changes will reflect the evolution and evolution of the road.
For many students, they were surprised to find the similarities between the buildings on Main Street, even if they were different. For example, the white marble and ornate flower columns on the M&T Bank Building are reproduced in the post.
Travis Olson, a freshman graduate student, said the project helped him dig into the buildings on Main Street that had previously seemed cold to him.
Nietubicz said the project helped him take a step back from the buildings he sees day in and day out.
For the students, "it's an educational experience," he said. "Students know what they're looking for and they have an eye for composition. Not all of you are from here with new perspective, new eyes, and new talent. "
Ames said the hands-on experience is "stock and trade" for people pursuing careers in heritage conservation or architectural photography.
"Our mission in public policy is research and teaching, public relations and career training," said Ames.
Lang and Jaworski don't think they will make careers in monument preservation or even photography. They both enjoyed it as a hobby, they said, and found the class formative and exciting.
"It brings a whole new perspective into what's cool about buildings, things that you don't look at in detail," said Lang. "You notice all the old buildings on Main Street that you have never noticed before."
When Lang was helping Ames and the city on a project bigger than the class itself, he said, "It's cool that he gave us this responsibility."
Article by Kelly April Tyrrell
Photos by Evan Krape and David Ames