(NEWARK, NJ) – Newark Mayor Ras J. Baraka, Newark Foundation Belief, Newark Store Rite, HelloFresh, Green Giant, Pepsi, Sylvia's Soul Food Products, Bindi North America, Inc., Baldor Specialty Foods and The Brantley Brothers Transportation Company distributed nearly 6,000 turkeys and additional groceries to Newark residents at TREC at 55 Ludlow Street in Newark and several locations around the city to ensure adequate social distancing.
"2020 has been a challenging year, but through our unity, our commitment to progress and our mutual love, we still have much to thank. I am delighted to share this season's bonus with our residents along with my wishes for a blessing," said Thanksgiving Mayor Baraka.
The Thanksgiving care packages were put together at the JFK Recreation Center, 211 West Kinney Street, where the turkeys were delivered and packed with other Thanksgiving groceries by city staff and other volunteers. The mayor took part in the TREC giveaway at 12:15 p.m.
The turkeys were distributed in several locations around the city based on availability. Almost 6,000 turkeys were given away.
"HelloFresh is proud to continue our partnership with Mayor Baraka and the Believe In Newark Foundation to provide residents with fresh ingredients for a traditional Thanksgiving celebration," said Uwe Voss, CEO of HelloFresh US.
The city is grateful for the generous support of its sponsor, the Believe in Newark Foundation, and co-sponsors this year:
* Newark Shop Rite: 6,000 turkeys
* HelloFresh: Delivery of 5,000 kits with Thanksgiving side dishes
* Green giant: 6,000 units of canned food donated
* Pepsi: 3,000 units of various Pepsi products donated
* Sylvias Soul Food products: Several units from Sylvias Food product line donated
* Bindi North America, Inc .: 1291 boxes of Mini-Mixed Berry Tarts
* Brantley Brothers: Transported donations to the JFK location
* Baldor's: Multiple cases of fresh produce
"We are honored to work with the City of Newark to bring fresh, nutritious produce to the communities supported by the Newark Gives Thanks Initiative," said Thomas McQuillan, vice president of strategy, culture and sustainability, Baldor Specialty Foods. "Through our Baldor Cares program, it has long been our tradition to share with people in need during the holiday season. This year, more than ever, we are stepping up our efforts to reach the most vulnerable families."
"We're excited to donate 6,000 cans of vegetables to the City of Newark for their annual Thanksgiving drive," said Jordan Greenberg, executive vice president and chief commercial officer, B&G Foods. "For more than 100 years, families across America have enjoyed Green Giant vegetables at their Thanksgiving tables. As a New Jersey-based company, we pride ourselves on our contribution to the city of Newark."
"Each year, the Believe In Newark Foundation, together with the City of Newark, provides thousands of turkeys to families in Newark who need to show our love and support for these families so they can partake of the special warmth of this festive season." said belief in Newark Foundation board chairman Andre Hollis. "This gesture also reminds those of us who are affluent and in leadership positions of our constitutional and moral obligation to bring about change to empower and strengthen the lives of all of our residents year-round," he added.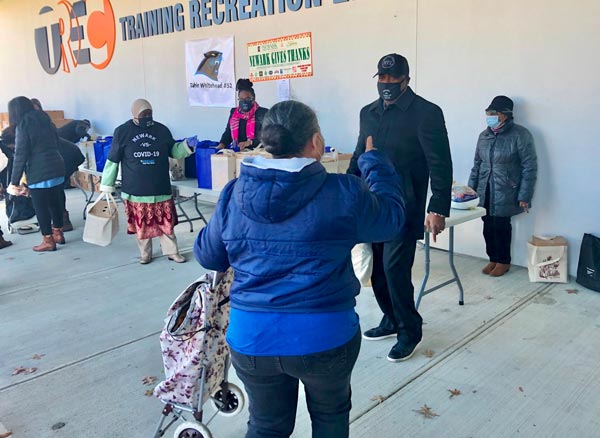 originally published: 11/23/2020